There is a belief that cats and dogs do not get along at all, but that is not entirely true. And that was demonstrated when a kitten in the United States became the best friend of three dogs, the images touched all the users of social networks.
Their friendship is fascinating.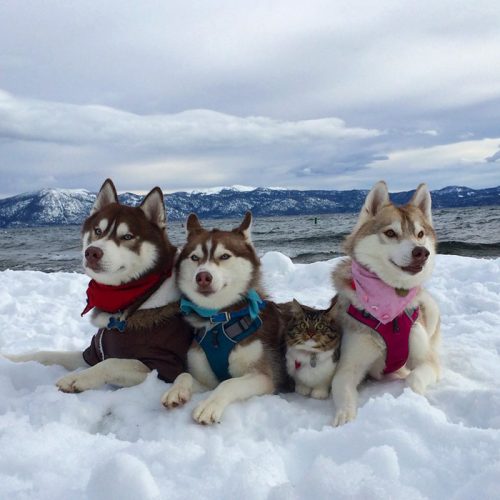 One day, a young woman in California named Thi Bui found a beautiful and tiny kitten barely three weeks old on the street. Seeing her helpless and in such precarious conditions, she picked her up and took her home, where she lives with her sisters Thoa and Tram, and three beautiful Siberian Huskies.
The Bui sisters love animals, and it is not the first time they have rescued a small animal from the street. In fact, they are always doing activities to help them and she has an account especially dedicated to everything that has to do with that.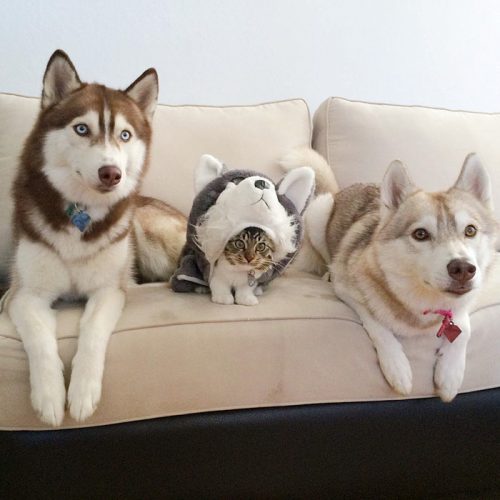 "Since we were little, we took in stray dogs and fed them! We raise money by selling dog bows and bandanas and all proceeds go to our TNR projects we do for feral cats! You can follow our TNR projects at Finnysfinds on Instagram, "said the kitten's rescuer.
At first, the hopes that the motudita would be saved were very little, but they put all their efforts in caring for and taking care of it. And when they got home the first thing they did was introduce her to their three beautiful and playful Siberian Huskies.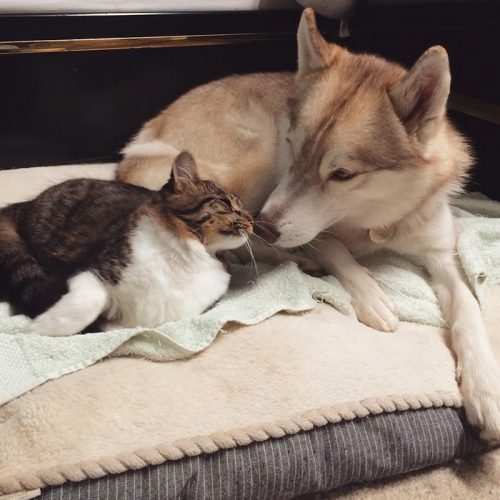 It was friendship at first sight, the furry ones immediately fell in love with Rosie, that's what the sisters called the new member of the family. And Lilo, one of the dogs, adopted her as if she were her daughter and did not leave her for a moment, until finally she began to open her tiny eyes and was able to walk by herself.
"She hardly survives the first night. She seemed lethargic and lazy, even though we constantly looked after her. In this way, we decided to risk it and leave her snuggled with Lilo. Miraculously, Rosie began to drink milk from Lilo, becoming a real mother, "said Thi.
Bu gönderiyi Instagram'da gör
From day one, the young woman has left photographic and video evidence of Rosie's progress and countless fun adventures and frolics while going for walks, walks to the park, to the mountains and trips to the beach. The images are really lovely.
For friendship there are no impossible
There is no doubt that Lilo's care, and the love of others have benefited Rosie a lot, she looks magnificent and is very happy.
Share this sweet story with your friends and don't forget that there can be a friendship between a cat and a puppy.