At the beginning of this year, Dr. Mark Ofua learned about this little white-bellied pangolin that urgently needed help to survive, since there was very little chance it had to prosper successfully.
The small mammal was born in captivity, in the middle of a group of wildlife meat traders, and without the proper help, it would not resist. For this reason, the man did not think twice and got into his vehicle to undertake a 50-kilometer trip to Epe, Lagos, Nigeria.
Dr. Mark commented to The Dodo:
"When I got to the market I realized that their chances were already slim. He was born to a mother weakened by the stress of captivity, without food or water for days, even weeks. He was already hypoglycemic and cold when I found him.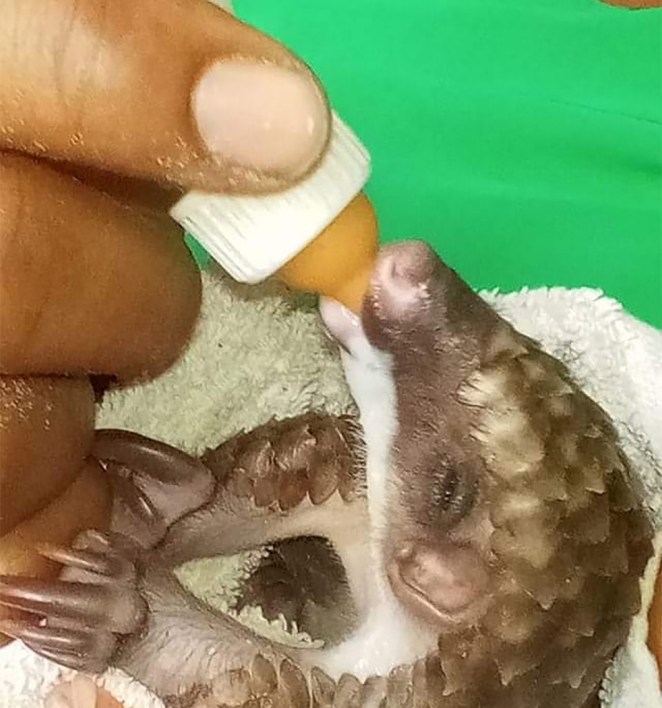 His conditions were truly deplorable, so much so that the merchants agreed to deliver the baby to Dr. Mark, as he was only a burden to them.
With the defenseless little animal in his possession, Mark decided to take it to SaintMarks Animal Hospital and Shelter, to examine it in detail and give it different medical treatments.
From that moment on, Mark took care of the loving pangolin named Neal, warmed him with hugs and provided him with a formula to increase his strength.
Perhaps, if Neal had been raised in the wild, he would be hanging on his mother's tail while she searched for ants and termites for food. But his reality was different, fortunately he has found comfort and adequate attention to have a better life, on the part of his caregivers.
Mark commented:
"He is a playful boy who is still learning to be a pangolin. He loves to seek out his caregivers and pet them to feel comfortable. He easily recognizes his feeding blanket and bottle as he loves his milk! '
Pangolins are generally shy and very reserved, but Ne appears to be the opposite and loves to play with his keepers. He frequently gives them "baths" with his long, muscular tongue, which helps him exercise it and learn to use it correctly, so that he can later hunt ants.
According to Mark, once Neal is older and able to feed himself, he will be sent to the SaintMarks Pangolin Rehabilitation Center, which is located in the middle of a protected forest, so it is a safe place for Neal and hopefully he will pass. his days there.
An organization that aims to reduce the global consumption of products that affect wildlife, joined efforts to conserve pangolins.
The WildAid organization financed the construction of a "pangolorum". It is the first of its kind in West Africa and will help many animals in need.
This release area will serve so that rescued pangolins can be safely reinserted into the wild, including Neal when he's ready. Mark hopes that at some point this species will be able to live quietly in the wild, but there is still a long way to go.
"To protect them we must create a large-scale educational program for the entire community on the need to care for them, while encouraging the government to take on the duty of protecting endangered species."
Unfortunately, according to studies, pangolins are the most trafficked animals in the world, as they are coveted for their meat and the unique scales they possess. In particular, the white-bellied pangolin, better known as the tree pangolin, is in danger of extinction and is on the IUCN red list.
Neal will continue to kiss and caress his caretakers, as a thank you for saving him, as he grows up and has a happy life.