Steve is a charming 18-year-old cat who has recently become famous for his particular taste in wearing a sweater. Those who have not gotten to own or interact with a cat might consider that they are all very similar, but the truth is that felines each have great personalities.
Steve's adoptive mother has had him in her family since she was a 12-year-old girl, and the cat was only 8 weeks old. At that time they lived in Phoenix, Arizona (United States). The two created a great bond since then.
Steve's mother told Bored Panda:
"A family friend's cat had kittens and my parents took my little sister to choose one as it was supposed to be hers. The last part didn't work out so well – he was kept in a separate room for the first part so that he and our older cat could acclimate to each other. He was constantly crying and I would sneak in to comfort him because I felt bad.
18 YEAR OLD CAT CRIES IF HIS SWEATER IS TAKEN OFF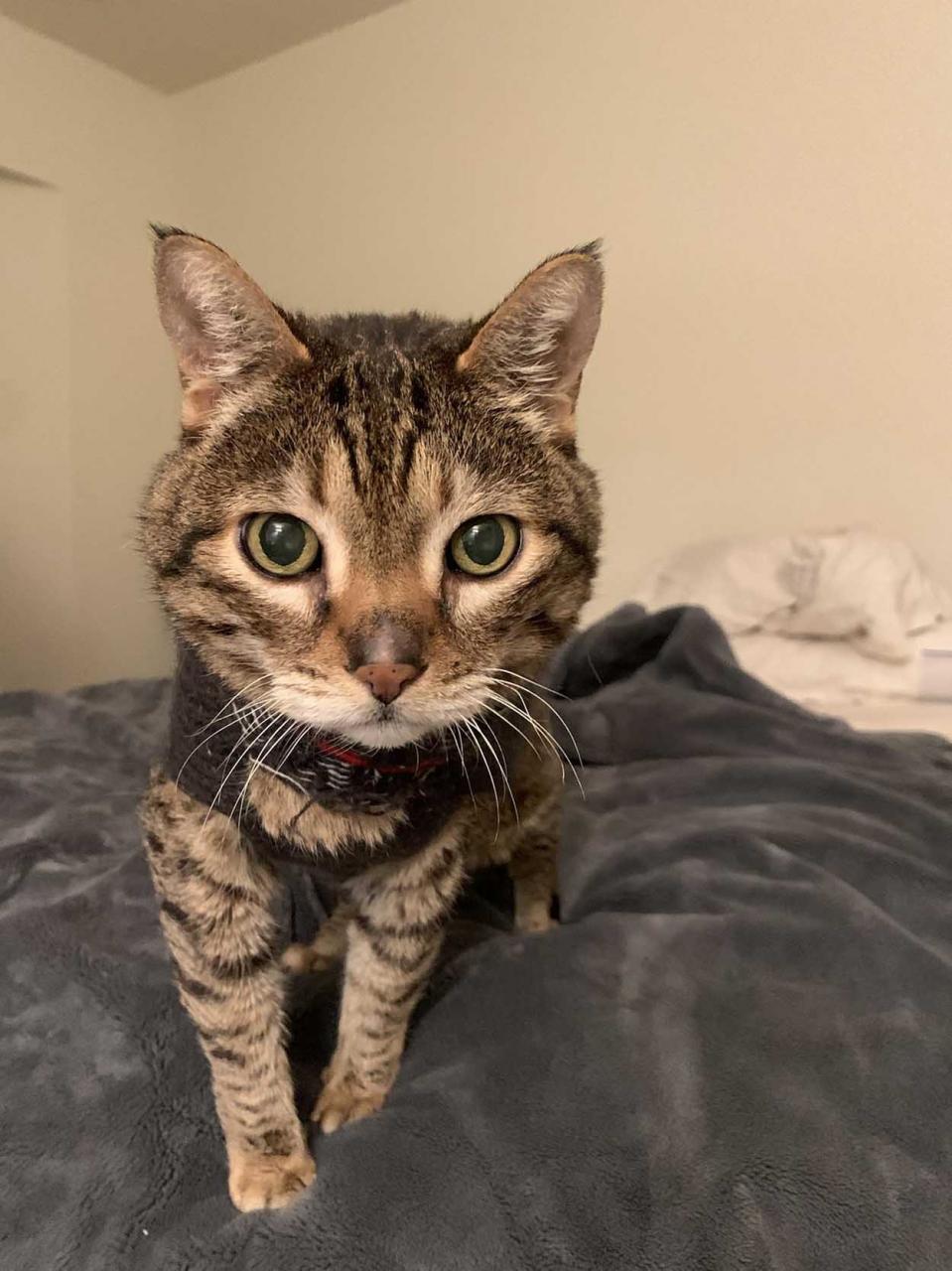 Since then, Steve has remained with his mother, something that initially grieved his sister a bit, who later had her own best friend when the family brought home an adorable dog.
Steve's mother said:
"I have an old 'contract' drawn with markers that she gave me for my birthday a few years later saying he was 'officially' mine. Steve and I have had 18 wonderful years together since then. "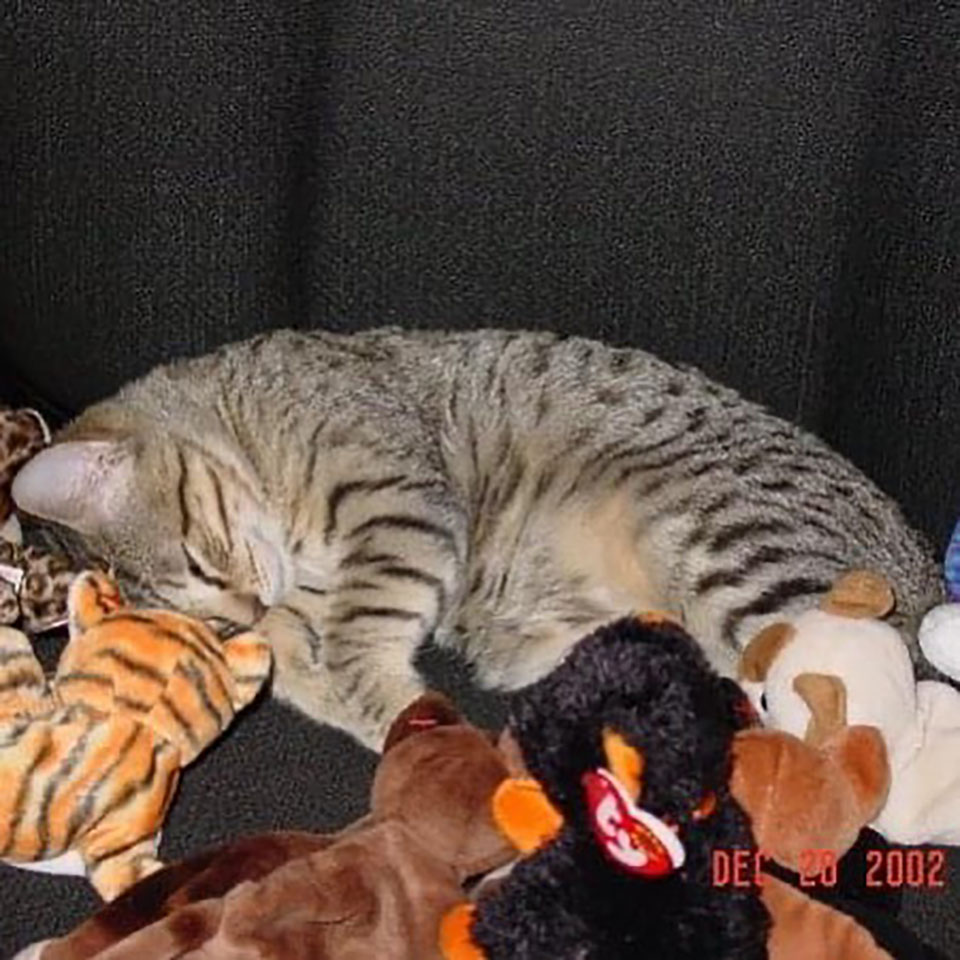 Steve has a great personality, he is quite a loving boy and he enjoys cuddling with his mother and loves hugs. He usually keeps her company while she reads a bit or takes comfortable naps together.
Steve enjoys caressing his mother on her forehead and close to her neck, he is an adorable boy.
Steve suffers from separation anxiety, which is why he took some prozac to help him eat while his mother was doing her study practice. It is also somewhat temperamental when something does not please him.
The woman added:
"He's quite talkative in general, he likes to answer me when he wants something if I say something to him. He's also the weirdest – he's not funny and falls out of bed when he stretches, eats whatever plants he has access to, tries to roll with bleach, likes to try to lick off deodorant and paint, and drools with happiness when scratching. right behind his ears ".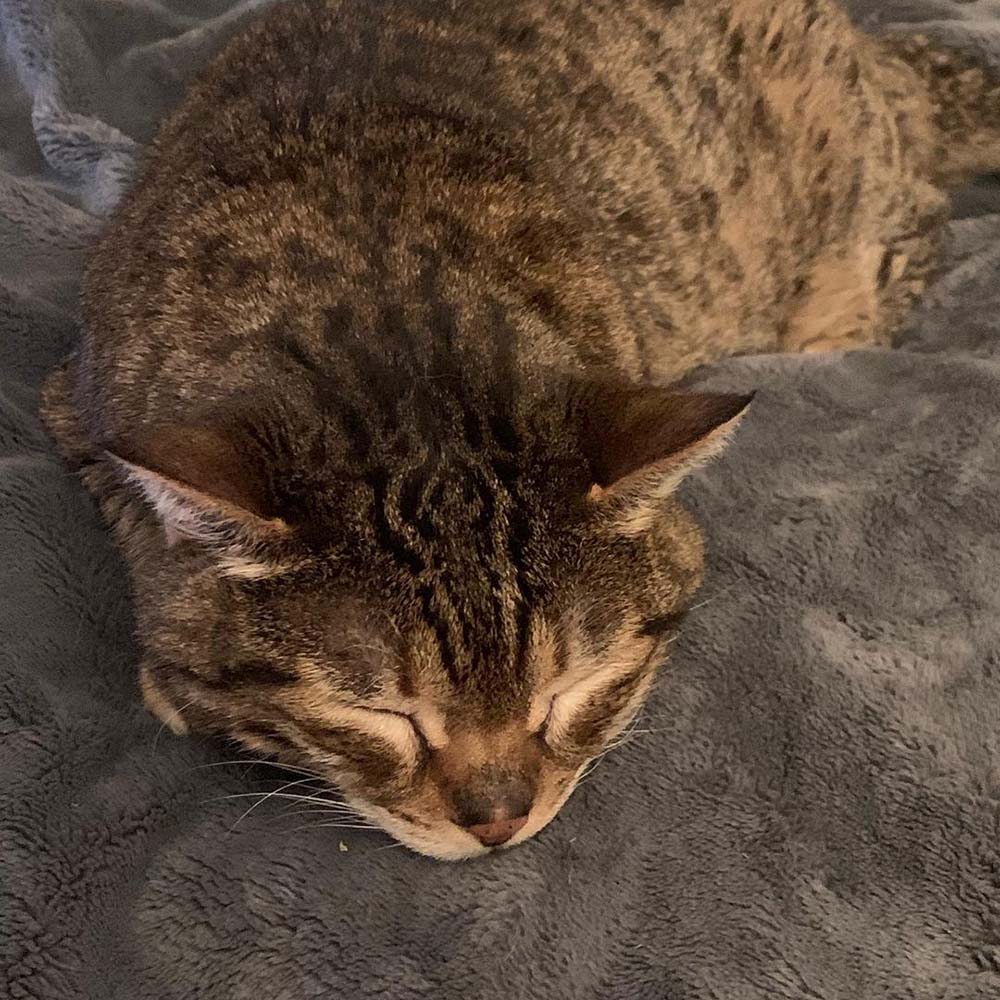 The 18-year-old cat's fascination with sweaters arose when his mother moved from Phoenix to New Jersey. To locate herself and have everything in order, the woman left a month earlier; the cat stayed that time with the grandparents in order to avoid the stress of fiddling.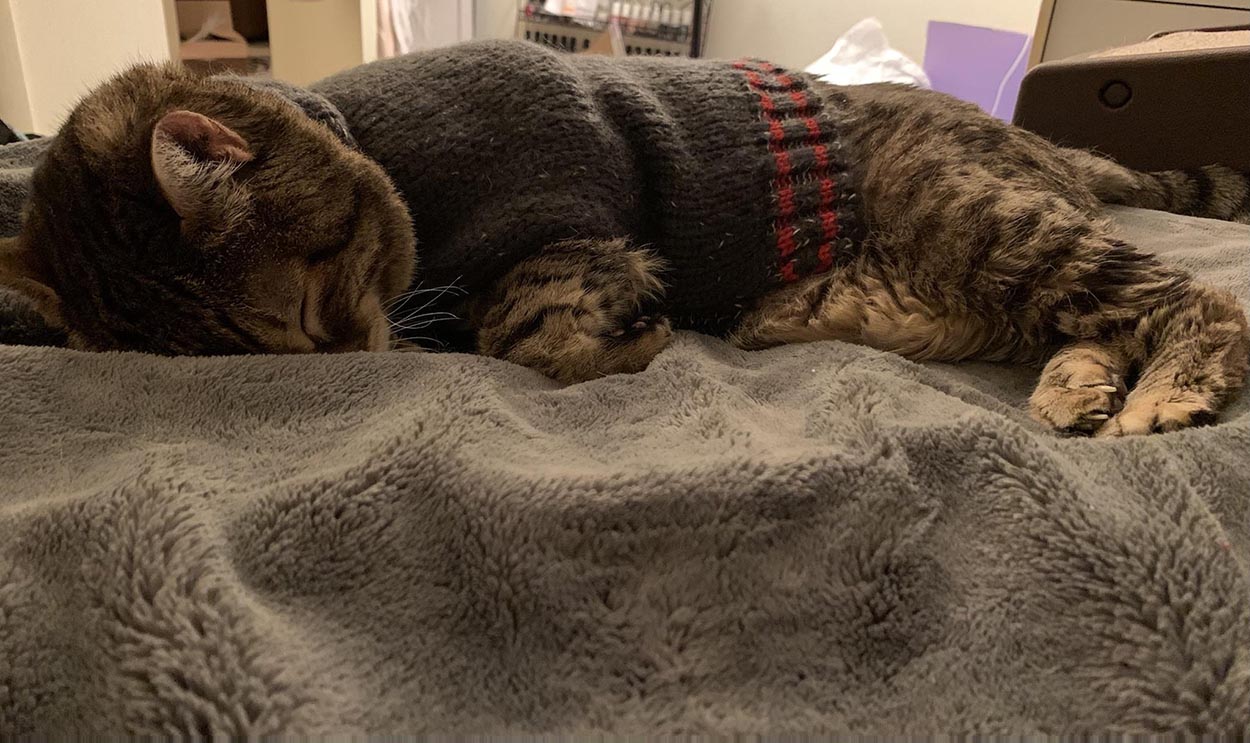 After that time, Steve's mother planned to fly with a friend to pick up her feline, before this she went on to pick up the sweater to keep it warm during the flight inside her baby carrier while they arrived at their new home.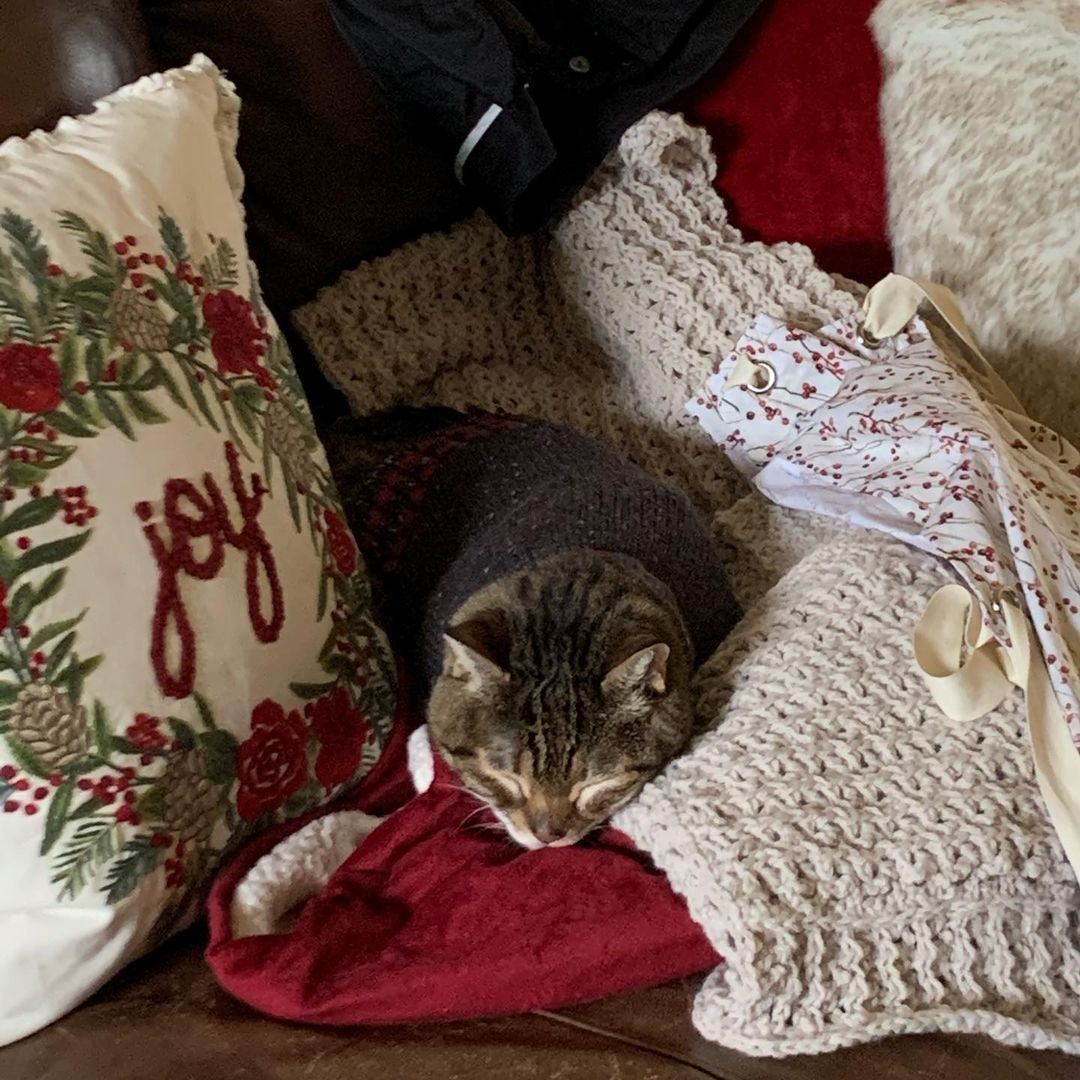 Although initially he was not very fond of the idea, Steve ended up accepting the new Sweater.
His mother remembers:
"At first he didn't like it, but when it landed, he was happy to use it. He's an arthritic old desert cat, so I'm sure he feels good about his crunchy bones. I don't keep it in him during the warmer months, but it's his third favorite thing (behind his heated bed and my heated blanket) as soon as the temperatures drop. "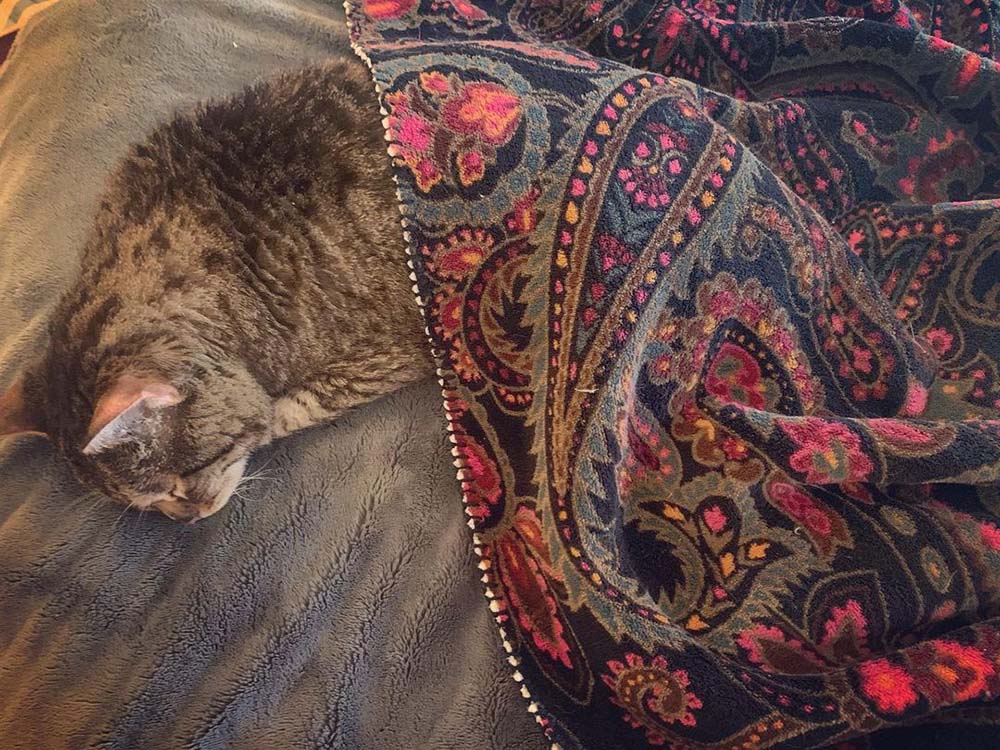 Now, the curious older cat enjoys wearing his sweater so that if someone takes it off and after a while does not return it, the feline will cry for hours until it is back. As soon as he has his sweater back on, Steve snuggles up and calms down to go to sleep.
Steve's mother posted some pictures of the 18-year-old cat and his beloved sweater on Imgur, and it went viral in no time.
She counts:
"I am delighted that people liked to see it! He's my best boy, so reading all the comments about the people who love him has been amazing. "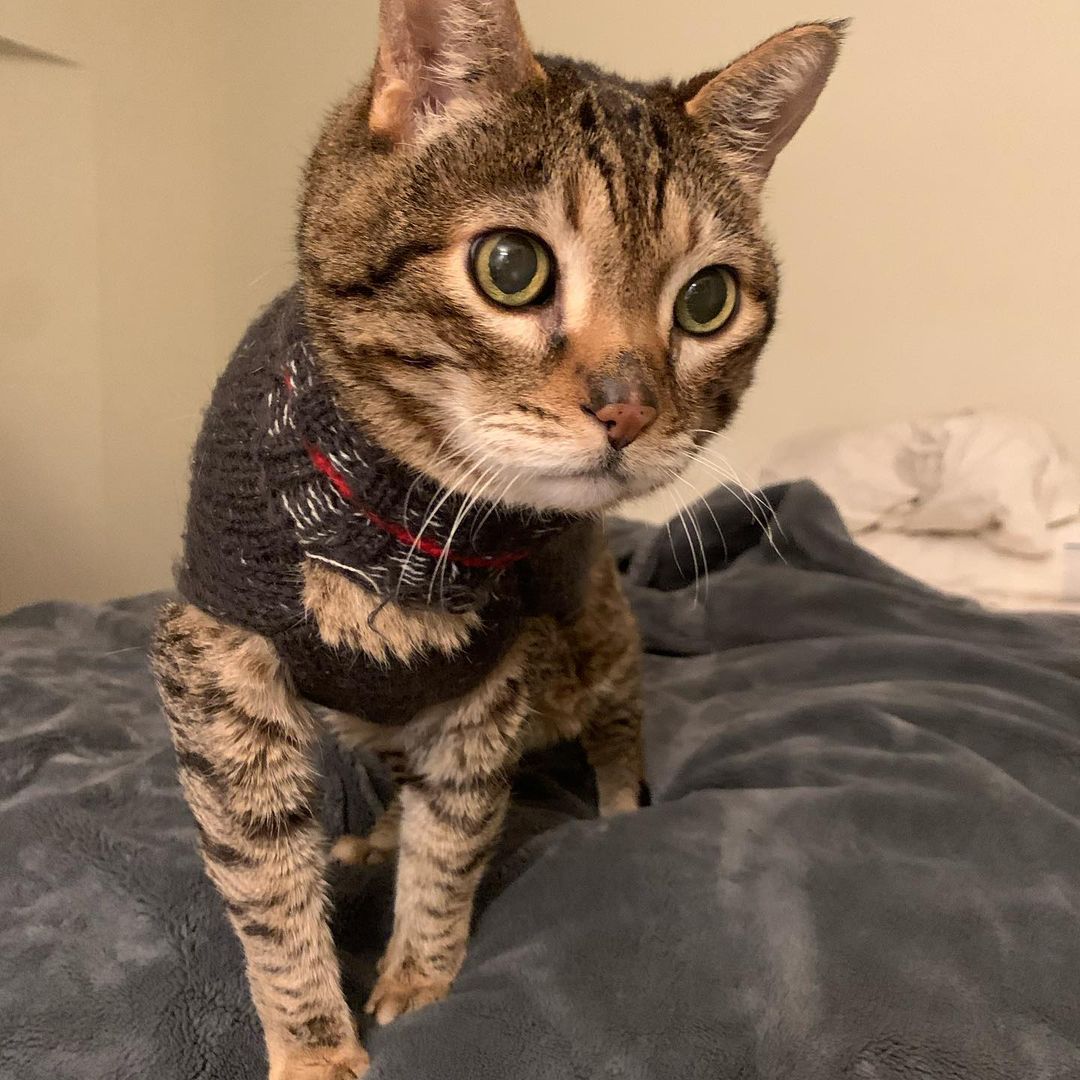 Many people even volunteered to knit more sweaters for Steve, and one Instagram user made an amazing drawing of the kitten's face.
The cat's mother finally added:
"The attention is a bit fun since I myself don't have any social media presence, but if he makes people happy, then I'm happy to provide as many photos as the internet wants."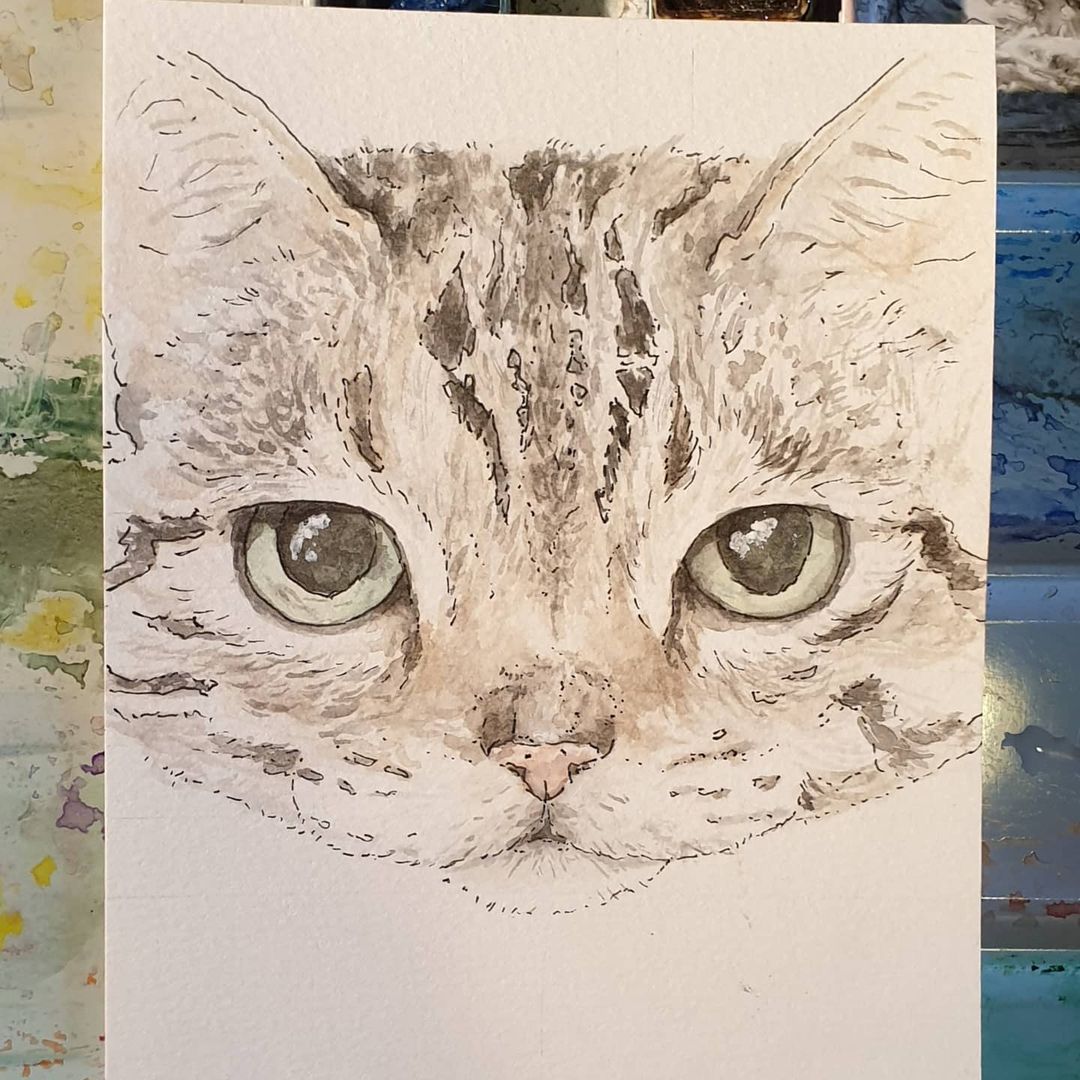 If you want to know a little more about Steve's life and his sweater, you can visit his Instagram account.