This pit bull named Blue King was abandoned by his family at the Carson Shelter in California. The dog cried in his kennel when he felt the absence of his favorite people; He didn't want to eat and just kept crying and looking through the bars of the door. In one of the images you can see a tear fall from one of his eyes.
Blue's old family had to move and for this reason they decided to hand him over to the shelter. He had a good chance of being euthanized, but thanks to the Saving Carson Shelter Dogs organization, Blue got a new forever home.
After volunteers shared a video of him on their Facebook page, a woman named Jennifer McKay saw him and so she went to visit him.
Jennifer commented to The Dodo:
"He seemed very sad and depressed. He wasn't even looking at me, all the other dogs were making eye contact and wagging their tails, but he wasn't getting up, he wasn't coming to see me.
The woman thought the dog was possibly waiting for his old family to come back for him.
She added:"You could say that every time someone passed by, it was as if they were looking for them. It's as if he knew they had left him there.
Jennifer wanted to adopt him right away, but the shelter had to do a temperament test first, so she had to wait a little longer. She came back a second time and brought him a bone and a new bed.
I had a little of his attention. He wouldn't let me pet him or anything, but he liked his bed.
On the woman's third visit, Blue was finally a little more cheerful and attentive.
She said:
"He came straight to me!"
It took a week for the shelter to take the temperament test and the woman was finally able to take him home.
Jennifer said with a laugh:
"He cheated on me. I was hoping to have a very chilled cold dog, but as soon as the doors were opened in the kennel, he was very excited to get in the car and wanted to stick his head out the window.
The woman gave him a bath, took him for a walk, and then fell asleep on the couch.
"It seems that he is feeling at home. He has his place on the couch ».

The dog loves to sleep, be pampered and have his belly caressed, and he also likes to look at himself in the mirror.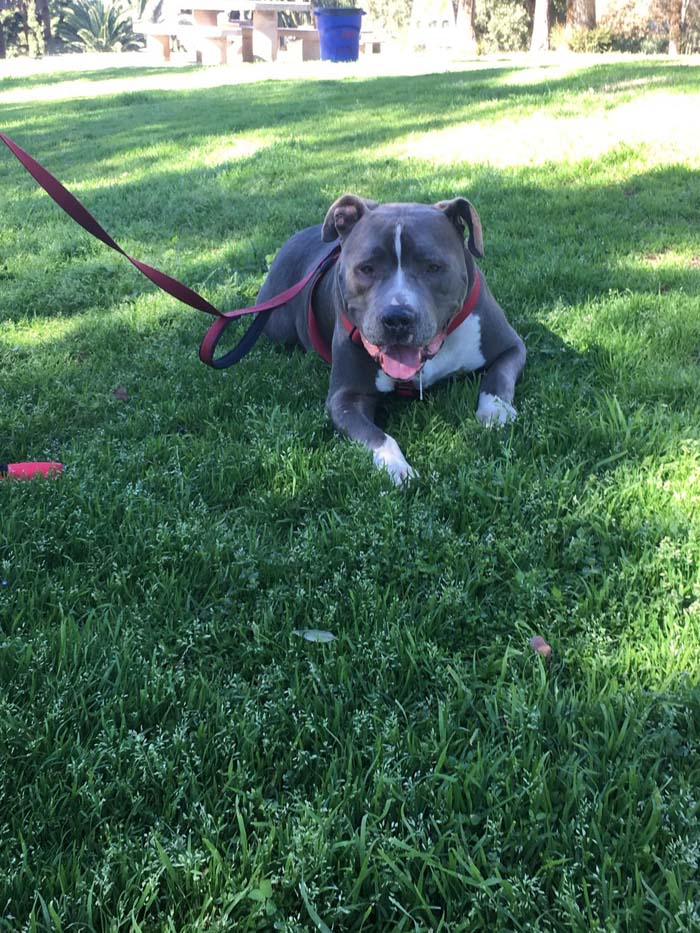 Jennifer said:
He's obsessed with looking in the mirror. We have a dresser that's roughly at his level, and he sits down, smiles to himself, and wags his tail.
This beautiful animal will never be sad again, because now he has a family that loves him and will never leave him.
Jennifer finished:
He just seems to be happy. I came home from work yesterday and he ran straight to me. He's just a good dog. I am very excited that he is part of the family.