Life on the streets for a defenseless animal is not easy at all, especially if they are very small creatures who still do not understand the dangers to which they are exposed. Duchess is a very small kitten who suffered an injury that left her with a broken jaw.
When they found her, she was about to lose her life but they decided to give her a chance and take her to the veterinary clinic, once they performed a series of tests they confirmed that her case was very serious.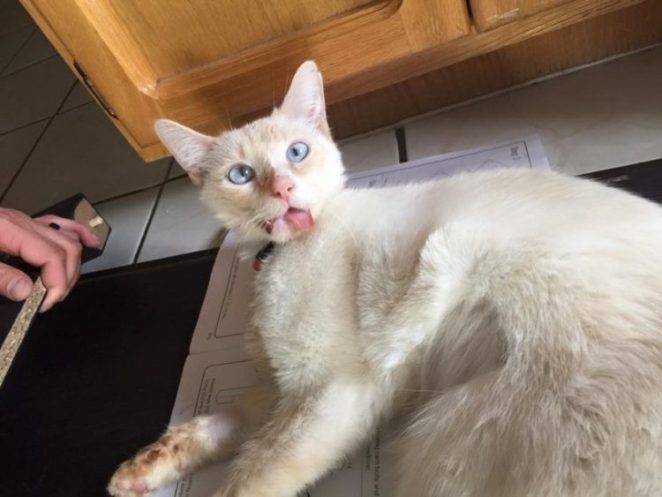 It was a true miracle that she is still alive so they decided they weren't going to give up on her.
She had very little chance of survival, but she is strong
said her rescuer.
Something inside Duchess seemed to have a lot of love and strength to keep fighting. The kitten was in intensive care for a month. She had suffered a jaw fracture that did not allow her to feed like any other feline.
Crystal Tate heard the cat's heartbreaking story and decided to give her a couple of visits to the vet. After only a few hours with her she understood that they could no longer separate. Her story had touched her heart and she was willing to do anything to help her.
The day I met her she was just beginning to heal from the fracture. Her feeding tube had just been removed and it was very thin
Crystal expressed.
It didn't take long for the veterinarians to realize the beautiful relationship Duchess and Crystal formed, so they asked her if she was willing to adopt her. The worst of her treatment was over and being able to spend a few days in a loving home would help her a lot to make a full recovery.
Crystal didn't think twice and took her home. Now she is sure that it was the best decision of her life.
She reminds me that every day is a gift and that miracles really do happen. She has grown a lot and couldn't be more proud
After going through such a hard experience, she knows how to value the life she now leads with her new human to the fullest. They have become inseparable and Duchess became the queen of the house. The best proof that she is safe and sound is that she never stops doing her shenanigans.