The iconic rock star Freddie Mercury undoubtedly had an immense love for his cats, and this was evidenced in a series of photographs. His love for his felines probably started in the 1970s when his then-girlfriend Mary Austin decided to gift him Tomy and Jerry.
Several people, including his personal assistant Peter Freestone, say that while he was on tour with Queen, he always called the caretakers of his little kittens to make sure they were okay, he tells Bored Panda.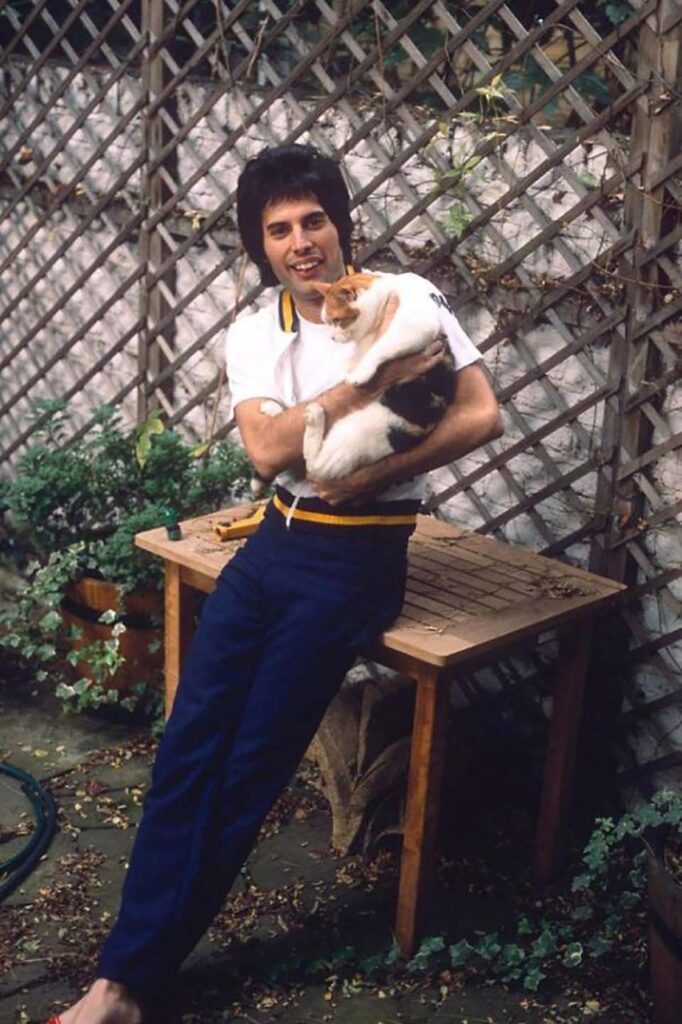 Freestone said:
"He would come to the hotel, call and actually talk to his cats. Mary held Tom and Jerry in turns to bring them to the phone and listen to Freddie talking. This continued over the years, with the next felines arriving at his home. "
Some reports reveal that Mercury had in his care 8 other kittens named, Tiffany, Dorothy, Delilah, Goliath, Lily, Miko, Oscar and Romeo.
Freestone added:
"His cats were his family."
Fredy Mercury even made sure that each of them had a Christmas stocking full of toys and treats.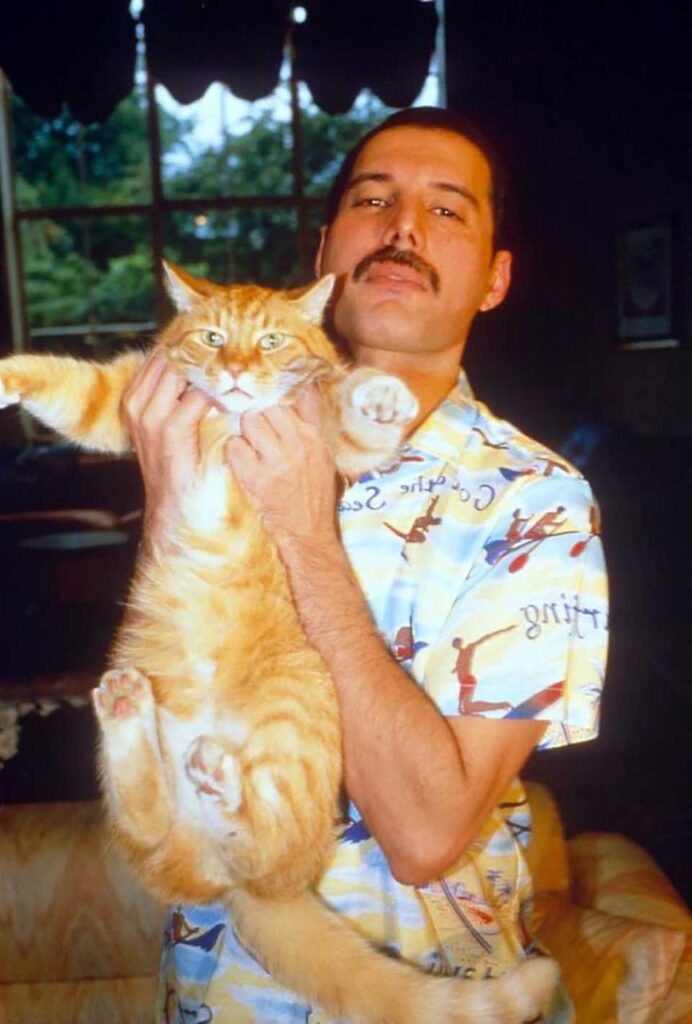 Jacky Smith, Official Leader of the Queen Fan Club for 21 years, added:
"Most came from rescue centers. In the UK we have a charity called The Blue Cross, which cares for sick animals. At least 2 of Freddie's cats came from there.
Freddie even dedicated some of his talents to his cats, as according to The Queen Archives, the solo album Mr. Bad Guy was dedicated to Jerry and the others.
"Innuendo, the last album he made with the band, featured images of Mercury dressed as a jester with cats on his shoulders. And an animated theme called Delilah. At first you can think that it is about a woman, until you get to the verse where "he pees on his Chippendale furniture." And it has a Brian May solo with harmonies that sound like meows. May also had quite a few cats over the past few years. Nowadays, he has to travel so much that he can't own one, but according to Smith, 'he's still a cat lover, no dogs.'
Mercury fans found another clue about this artist's love for his cats on the Classic Queen CD, where he can be seen wearing a striking kitten-print vest, upon closer inspection it is possible to appreciate that he is actually it's about yours. This same vest he wore in his last video.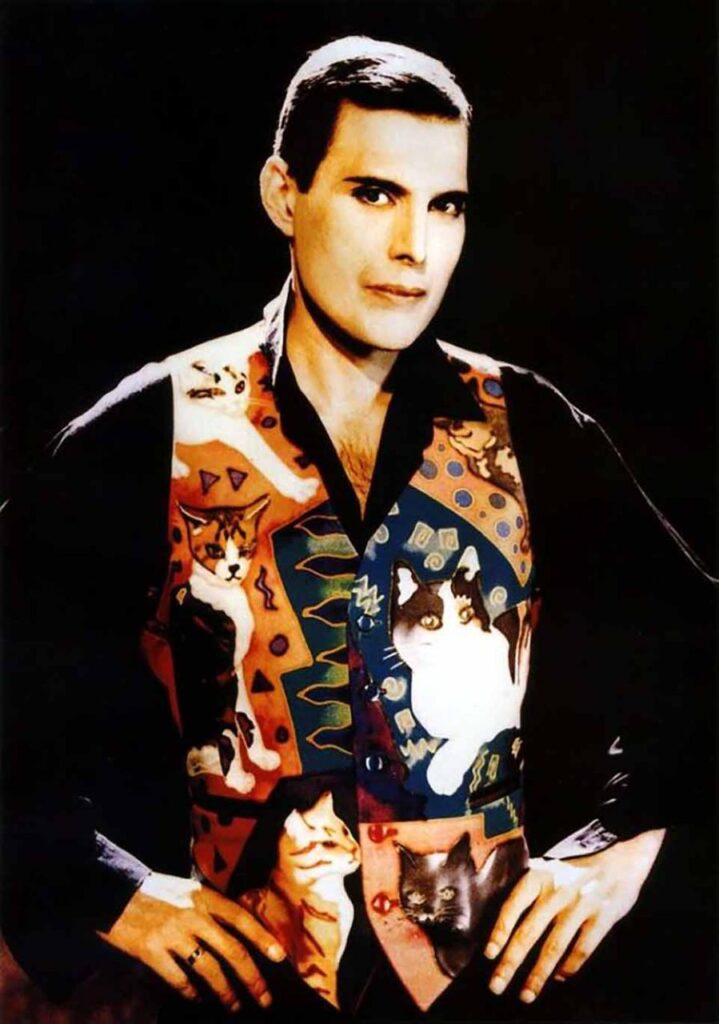 Arguably the most famous cat in the Mercury family was a three-colored tabby named Deliah, she was adopted in 1987.
Smith said:
«She was a real character, that lady! Delilah was funny. She was also a bit of a bully with others, but she was always the first to get on his lap and the first to ask for food.
Jim Hutton, the singer's boyfriend of seven years, also confirmed Mercury's special bond with Deliliah.
"' The little princess 'of the house,' the one he held the most in his arms and caressed. ' And if that wasn't enough 'he slept at the foot of the bed, before running off to look for nocturnal fights' ".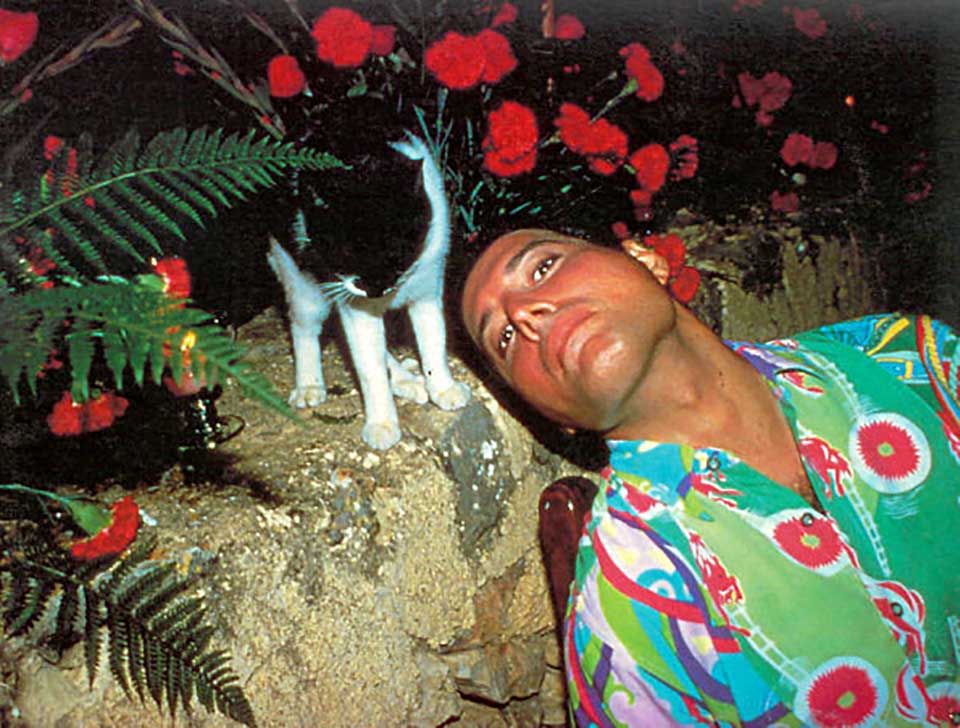 Mercury and Me explained in their memoirs:
"Freddie treated cats like his own children. He worried about them constantly, and if something happened to any of them while he was gone, Heaven help us. During the day, the cats would run around the house and the grounds around it, and at night one of us would look for them and bring them inside.