When a pet escapes, moments of tension arise due to the affection we have for it. After all, used to staying at home, you don't know what he's doing on the street, if he's okay, if he got run over or not, if he turned into a barbecue outside the supermarket or something.
For this reason, faithful owners of animals desperately search for it on the street, in a race against time before the animal dies. It was no different with Stanislav Zak, a Russian who loves his kitty, who ran away and never came back.
After much searching, he finally found his cat and, overjoyed, brought it to his house. But something strange happened: after your cat came home? Now he was there with two identical cats, not knowing what to do.
He posted the story on the Purrtacular group, made for cat lovers.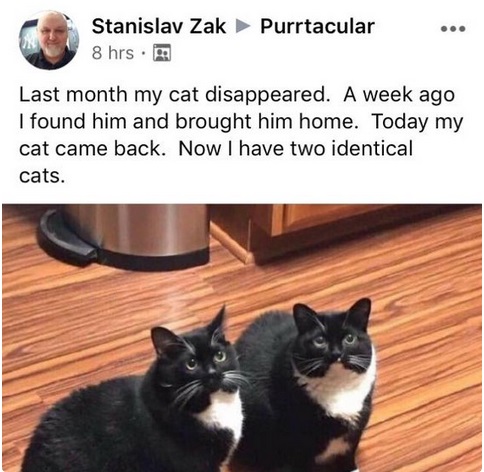 Well, at least one cat has found a home without even asking for it. Or someone's cat was stolen … we don't know.
It prompted lots of great replies, from theories to jokes to people's own stories of something similar. Here are our favourites.