Anthony Rogers is an artist from Tennessee who has gone through hard times and is currently homeless in the Memphis area. Even though he has a lot of problems, he is so happy because he has a dog named Bobo sticking loyally by his side. Rogers does everything he can to be sure that the dog is cared for and loved. They love each other and share a special bond.
Unfortunately, a few weeks ago, his loyal dog Bobo had gone missing, and he was down. He immediately contacted friends to help him search for the dog and put up flyers in the area in hopes someone would found him. But as the days went by, he became hopeless and thought that he might never see Bobo again.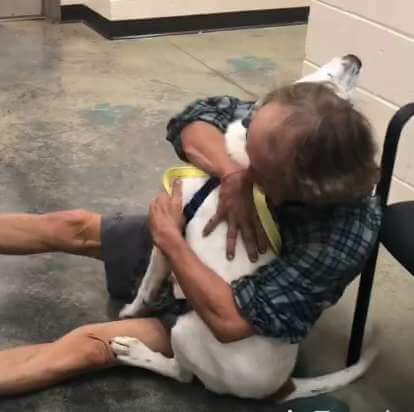 Last week, however, an employee at Memphis Animal Services who'd seen the flyers saw a newly-arrived pup that looked like the missing dog. She immediately called the number on the lost poster to contact Rogers.
When Rogers went to check, he was very happy to see Bobo again. "Bobo could not contain his happiness at seeing his dad again," the shelter wrote on Facebook. He ran into Rogers' arms and excitedly jumped up all over him, with his tail wagging furiously.
The pair shared a heartwarming reunion that will touch your heart. See the video here:
"Bobo got neutered, microchipped and vaccinated, and we found out he was heartworm negative," Memphis Animal Services wrote. "We sent him back to Anthony with a year's supply of heartworm prevention, a bag of dog food, and a harness, leash, collar and ID tag. Bobo is healthy and happy[.]"
Rogers is still homeless, but we believe that he will be still happy with his best friend. He might not have much in terms of material possessions, but he is very rich when it comes to love in his life. Fortunately, a local animal hospital will accept donations for Bobo's future care. We hope that he will be able to get more help he needs in the future.
Please share this story with your friends and family members!