A street dog, accustomed to the indifference of all the passers-by who passed by her, was disconcerted when finally a homeless man who survived like her in helplessness, approached her.
The act of the homeless man was recorded thanks to a young woman who witnessed what the homeless man did, and who now gives much to talk about on the networks.
Many times, those people with whom life has not been entirely generous, are sometimes the ones who give the most value to things that are really important, such as loyalty, love and friendship.
Therefore, it is not surprising that those who live in poverty more than once give real lessons to all of humanity.
This was what the young woman from Brazil experienced as she witnessed a truly incredible and unique moment. Since she spread it on the networks, it did not take long for her to go viral.
Homeless man didn't know someone was recording him

Flaviane García was walking along a well-known avenue in the municipality of Serrana, São Paulo-Brazil, when she was moved by the good deed of a homeless person.
The man was walking with a dog, which was apparently his pet. Suddenly, he crouched down to keep her warm and protect her from the cold. A gesture that really impacted the young woman, because although it seems like a simple act, not all humans watch over her four-legged companions with such love.
This furry girl also deserved to be warm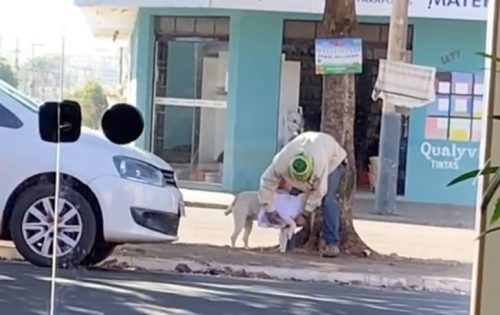 The young woman saw how with great love and care, the man stopped to dress his dog in a white shirt, in an attempt to warm her up, even if it was a little bit.
When the events happened, these were harsh winter days in the capital, and being covered with some warm clothing was a must for everyone, especially for those who have to endure inclement weather outdoors like this pair of friends.
So this dog could not stay naked.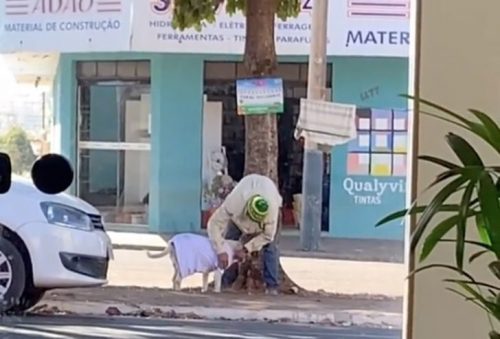 When Flaviane, who was on the other side of the sidewalk, realized what the man was doing, she didn't want to miss the opportunity to take out her mobile phone to record everything.
"I was so happy and with a warm heart that I decided to film it and publish it, to show that all is not lost and that good-hearted people still exist," Flaviane wrote on Instagram.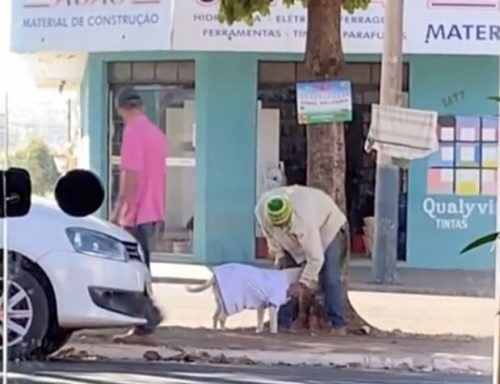 Since the girl spread the scenes, praise for the good Samaritan immediately began to rain down.
While there are so many well-to-do people in the world who only mistreat their pets, this good man living in poverty sets aside what little he has to take care of his beloved dog.
In many cases, those who have the least are those who give the most. It is inspiring to see how that man who survives on the street strives for the well-being of the animal that, like him, is helpless.
Without a doubt, that is a great example of humanity for all.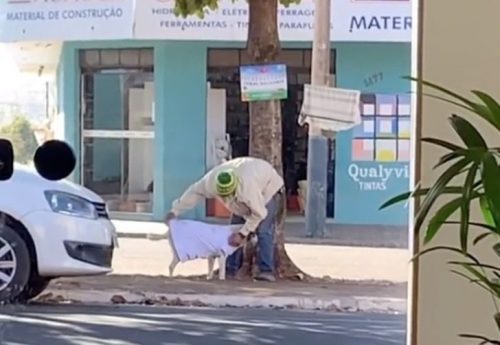 Flaviane reported that the events occurred in a solidarity line that is located in front of the beauty salon that she usually attends.
Solidarity lines are spaces where people can leave clothing, personal hygiene products and non-perishable food for others to take if they need it.
Obviously, this man needed to protect himself but he not only thought of himself, but above all of his dog. And that gesture of love is the one that has touched so many hearts.
View this post on Instagram
After the publication of the video, a company in charge of making clothes for pets decided to make a donation for this good man's dog, but a problem has arisen: Flaviane does not know the Samaritan and has asked for help to locate him and provide him with support.
The power of the networks must be felt, help us locate this man. It is hoped that he can be identified so that he can receive help.