"Being up a creek without a paddle" is not where anyone wants to find themselves. For most people, it's just a metaphor that is used to arrive at a solution point in everyday conversations. But for two dogs in a canoe, it was a reality that terribly scared them. These two pups were literally up a stream without a paddle – or more precisely, they were going down a river with rough waters.
The two dogs didn't know what to do. And no one can blame them. What do you do in a situation like that? I'd probably just sit in the canoe and cry. I have no shame in saying this. But for the most part, it's usually advised in water rescue situations that you remain in your boat and wait for the rescue team to arrive.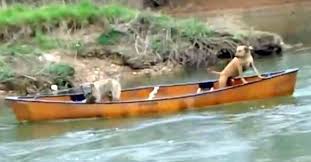 But in this spesific situation, the "professional" that showed up to the rescue turned out to be one of their fellow dog friends. The two trapped dogs were desperately drifting down the river in the canoe when a third dog appeared and bravely rushed into the strong currents. He was not about to let his friends float away into the unknown.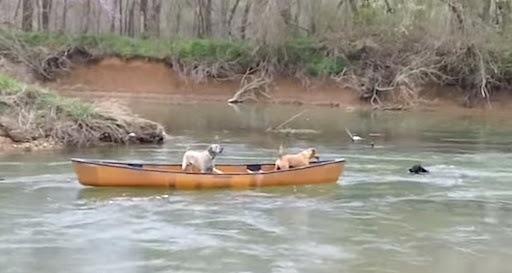 The hero dog is named Robbie. And he proved that he had shown no fear as he swam out towards the canoe when it comes to rescuing his friends. And the amazing point of this story was that one of the dogs in the canoe, Rusty, noticed that he was coming to rescue them. That is when he dropped a rope into the water in order for Robbie to be able to pull the canoe back towards the safety of the shore. The amount of emotional intelligence that these two dogs showed was quite incredible.
And it was quite heartwarming to see a dog put himself in harm's way in order to save two others. It's a great example of how we don't give dogs enough credit. They truly are caring and compassionate creatures. And it is hard to say we deserve them
Watch the daring rescue below: