This adorable gorilla takes her baby to meet a woman's newborn through the glass of her display area
When Emmelina Austin visited the Franklin Park Zoo in the city of Boston, United States, she did not imagine the bond that a gorilla named Kiki would develop with her. The mother also approached from the other side of the glass so that her baby gorilla could meet the woman and her little newborn.
Canyon, Emmelina's baby, got the gorilla's full attention. While the Austin family were exploring and enjoying the gorilla displays at the zoo, Kiki surprised them with her adorable and sweet reaction. The gorilla watched and tried to caress the woman's baby through the glass of her display.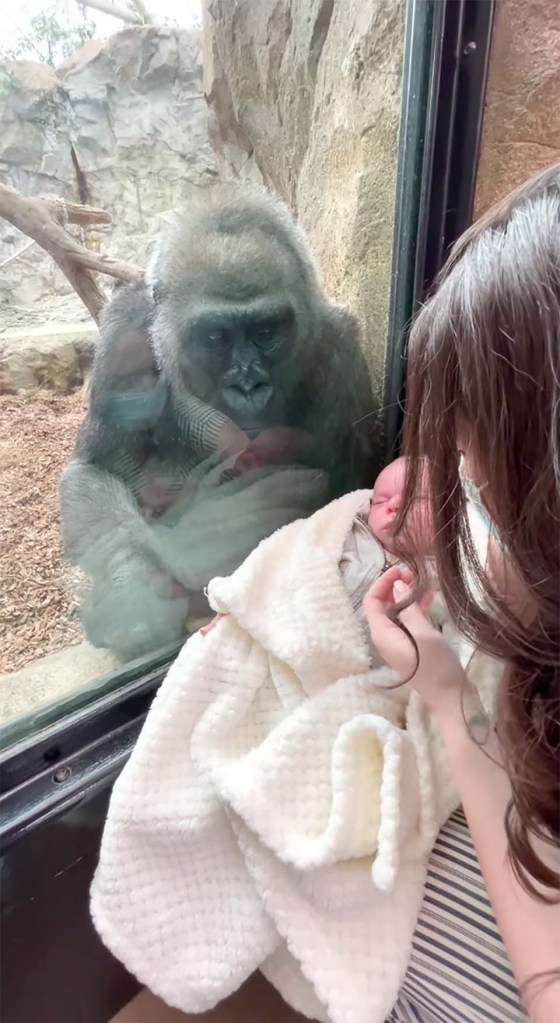 The Austin family saw Kiki in the company of her own lovely 7-month-old gorilla baby named Pablo. The loving gorilla was trying to show the woman's baby to her own baby, and you could see the emotion in her eyes.
Canyon's father Michael Austin commented to The Dodo:
"My wife mentioned that she felt she could understand their bond and could see how much she cared for Pablo, since she is now a mother. My wife picked up our son to show him to Kiki, who was on the other side of the enclosure… then Kiki grabbed Pablo and put him on his leg to bring him to us ».
For a few minutes, Emmelina and Kiki sat next to their babies inches apart, separated by the glass. They both understood each other as mothers, and it really was a unique and emotional little moment.
"[Kiki] was talking to us with her hands. Pablo even pushed his face to the glass at one point and they saw him, noses touching, together. My wife and I had tears in our eyes.
This is apparently not the first time that the cute gorilla has shown interest in other people's babies. According to John Linehan, president and CEO of Zoo New England, which runs the Franklin Park Zoo, in an interview with Today commented:
"We always joke that if a baby falls into our exhibit, Kiki will not return it to her. She is so motherly.
According to the zoo director, when Kiki was pregnant, she was diagnosed with placenta previa, a condition in which the placenta covers the cervix. Due to these complications the gorilla had to give birth by cesarean section.
John says:
"We had to separate them for a couple of days while Kiki recovered. That is always a bit stressful. But Kiki picked up right where she left off and immediately started breastfeeding again. It was quite incredible.
This gorilla is a very sweet girl, and without a doubt she is hopelessly attracted to babies and she made it very clear when she couldn't help but get close to meet little Canyon and his mother, and surely for the Austin family it was one of the most amazing experiences that they can remember.