This was the first flight of a dog named Huxley. He was traveling from London to Ibiza with his caregiver mother and as they prepared to take off, the little one was very bored.
Ursula Daphne Aitchison, Huxley's mother, commented to The Dodo:
"He was sitting in the seat next to me, but he was in a bad mood, which he usually does when I don't pay enough attention to him."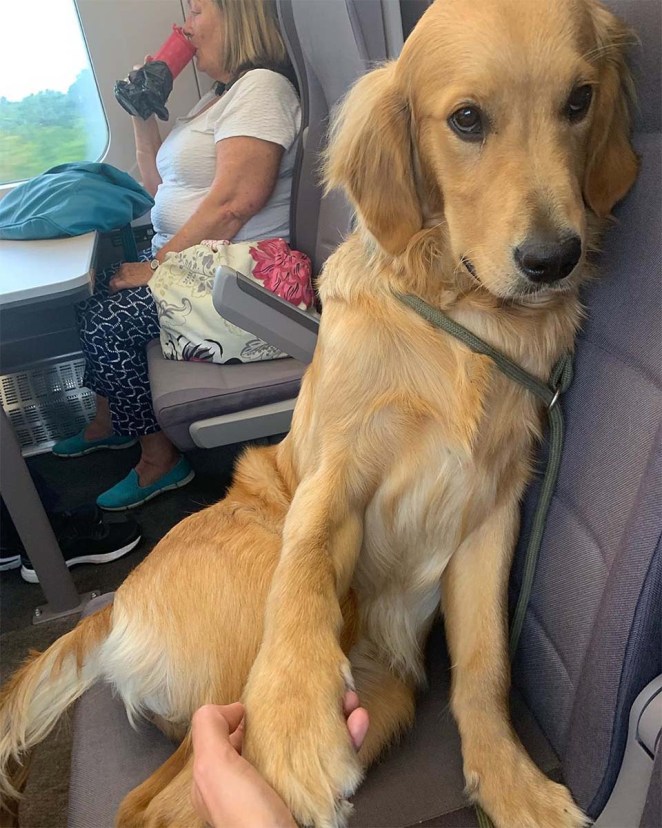 It was then that Huxley decided to look elsewhere for attention, abandoning Ursula to sit next to the man across from them, who was more than happy to welcome his new seatmate.
Huxley was very happy next to his new friend and ignored Ursula, until he heard her open a package of potato chips.
The dog poked his head between the seats to try to reach out with his tongue and taste what his mom was eating, but this didn't work, and his fellow travelers couldn't stop laughing at the faces he made.
He showed his teeth and showed everyone on the plane that he is definitely the cutest puppy in the world.
Ursula shared the photos of the shenanigans from Huxley's first trip on Facebook, where he quickly became even more famous.
Although Huxley couldn't reach his mother's snack, he continued to entertain her and the rest of the passengers with their goofy faces making friends with everyone on the flight.
Ursula added:
«He spent 30 minutes in that seat; the man next to him said he was a very good passenger and the man across the aisle was taking selfies with him. Huxley kept pawing at him in salute. I was making a lot of people laugh and the man next to me asked me to take a picture of him to send to his daughter.
Huxley spent most of the flight entertaining his fellow travelers, and being such a cute little dog to look at and play with, the flight was definitely a lot of fun for everyone.