Adopting a cat entails understanding what the cycle of life is all about and it is that no one is going to stay here forever. However, that does not mean that it is not difficult to accept.
When your kitten steps into the house for the first time, it's a wonderful and cuddly feeling. He is one more member of the family and as such you love him madly. You live an immense number of experiences to the point of knowing him as well as yourself. It is a special and unique bond.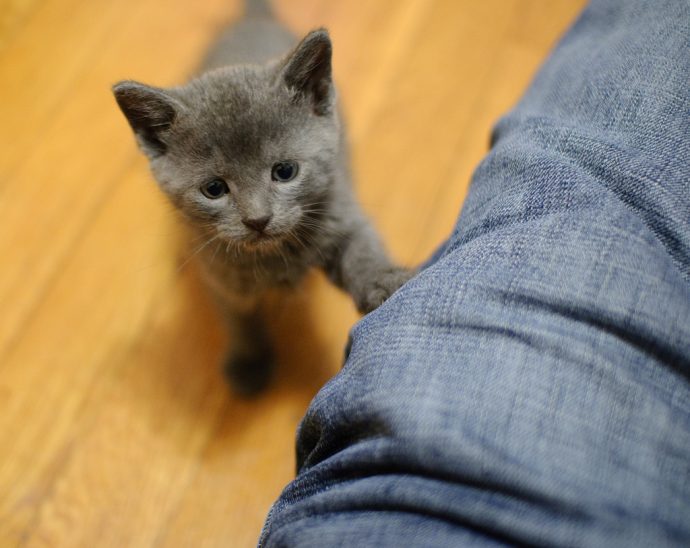 That's why when it comes time to say goodbye, your heart breaks. It feels like a part of yourself has been taken from you. Although goodbyes are sad, you have to try to see the positive part of life, which is that you have been able to meet a unique cat, you have been able to establish a unique bond and you have given it a good life.
It only remains to thank the time spent together and try to help other cats that can give you many other experiences.
A cat comforts his family on his last trip to the vet
We have made this introduction to prepare you because we all know that our hearts sink every time we read the story of a kitten that leaves this world.
That is the case of a Reddit user who wanted to tell how Andrew, his cat, comforted him on his last trip to the vet. He had been fighting a disease for a year and he couldn't take it anymore.
Andrew places his paw on his life partner's hand.
It is totally heartbreaking because the Reddit user published a photo where you can perfectly see how the cat comforts him. He places his little paw on his hand and it seems that he knows exactly what is going to happen next.
It is one of the most emotional images that have been seen on the Internet. Simply Andrew's gesture that puts his paw on the hand of his owner as if to say: This is how far we go mate.
It really does give you goosebumps.
Andrew demonstrates the great sensitivity that cats have
We are always repeating it, but this helps to clarify even more that cats have a heart that does not take them in the chest. As the couple held hands in frustration and sadness, Andrew placed his paw to comfort them.
Andrew's own life partner said:
ANDREW PLACED HIS PAW ON OUR HANDS WHILE HE MADE HIS LAST TRIP TO THE VET. IT'S UNBELIEVABLE BECAUSE WHILE BOTH OF US WERE COLLAPPING, HE KEEPS UP FOR BOTH OF US.
What was Andrew like?
Surely you want to know a little more about this very special cat because he was 15 and a half years old when the disease took him away. He was a very affectionate cat with everyone, but he was already very old.
He was one of those felines that spends his life purring and wanting love. However, there comes a time when sometimes life tells you to stop and you can't do anything to avoid it.
It is sad to lose a friend and I am with all those people who have also suffered a loss. It is a very painful feeling and we can only support each other.
Share the picture of your cat
As a tribute, share the photo of your cats on social networks. It can be in the Facebook post itself or you can tag us on Instagram with your cat's photo.
It is a way of showing that we love them madly, whether they are with us right now or not. They will always be in our hearts.