A female dog named Pretinha adopted orphaned possums whose mother was attacked by another dog and died. Fortunately, Stephanie Maldonado found them in time. Their eyes weren't open yet, so they were only a few days old.
Stephanie was hoping that a nearby wildlife rescue group would take in the possums, but they told her they didn't have space to take in more animals. So she took care of them.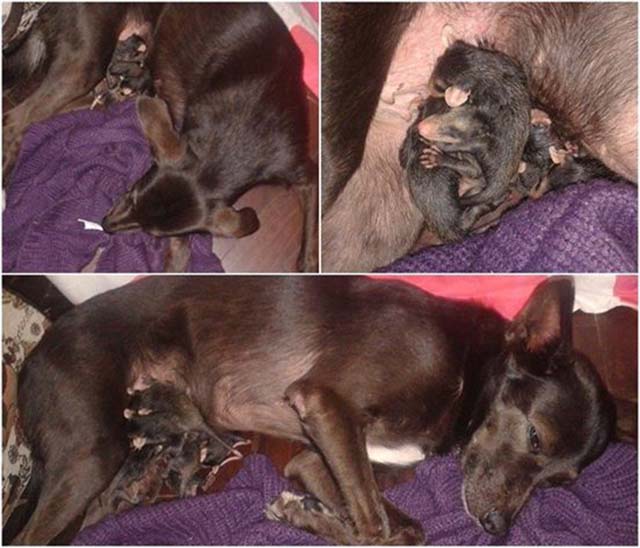 The animals need to feed every two hours, but it was still uncertain whether the possums would survive without more maternal care than Stephanie could provide. It was then that her dog, named Pretinha, stepped in to help them.
The loving dog felt that the little possums needed her and began to care for them as if they were her own children.
Stephanie shared on Facebook:
"It's very nice to see all the care you have with them, licking them all the time, and snuggling with them."
Although Pretinha is sterilized and does not produce milk, she gives them the shelter that the little possums need at this stage. The pups climb it as they would their mother and Pretinha seems to enjoy that too.
The little dog has accepted the fact of letting the possums climb on her so much that she even wears them during her walks, just like a real possum mother.
Since the baby possums came into Pretinha's life they have grown healthy and strong thanks to her care.
When the time comes and they are old enough, Sthepanie hopes that the possums can be returned to their natural habitat, carrying with them the legacy of love and affection provided by their adoptive mother.