The COVID-19 pandemic has changed all of our lives. We all isolate ourselves and stay at home. It's a strange and difficult time for all of us, and we've had to adapt our daily routines to keep ourselves safe.
While it is a serious situation, it does not mean that sometimes you cannot have fun with it.
While everyone is encouraged to stay indoors, sometimes it is necessary to leave the house for things like walking your dog … and one woman decided to dress up in fun protective gear – a gigantic inflatable unicorn costume!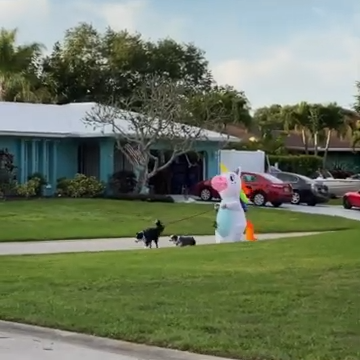 On March 30, Tiffany Roehr, of Bradenton, Florida, took her two dogs Cooper and Onyx for a walk.
Since people are advised to protect themselves outdoors from the coronavirus, Tiffany donned the inflatable costume. It's not exactly a hazmat suit, but it surely did the job … or at least it will keep people six feet away.
"I wanted to have a little fun as our state was under a stay-at-home order," Tiffany told Newsflare. "So I got dressed and took my dogs for a short walk."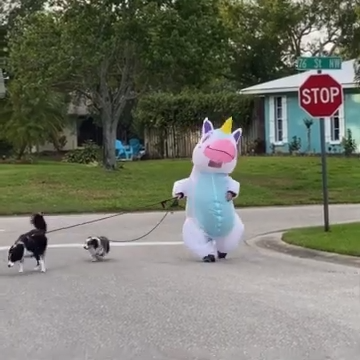 She wrote on YouTube that she bought the unicorn costume for an event that was canceled due to the coronavirus, so it was also a fun way to put it to use a bit.