A vet approached the dog who was crying in fear after undergoing surgery. The doctor did not know that he was being recorded, much less that the scenes would be seen by thousands of people around the world.
For an animal that grows up in a shelter, life is not rosy. Sometimes it is cold and terrifying for them to grow up in these spaces, especially those who overcome a situation of abuse, abandonment or illness.
This is the story of Meesha, a pit bull dog who underwent a surgical procedure at the BARCS Animal Shelter in Baltimore, Maryland, to be spayed.
Dennis Moses is an assistant to the veterinary team that performed the surgery and was the protagonist of a video that has stolen many hearts for the tender scenes in which he soothes Meesha, just as if she was a baby.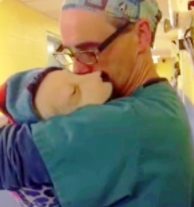 This is one of those moments that absolutely melts anyone's heart! It is completely moving to see how this man lovingly cradles the dog after sterilizing her.
He connected with the dog's need for protection and comfort after having a disconcerting experience for her. For any dog, undergoing an operation can be scary, and for one with a past marked by neglect, much more.
Also, anesthesia can cause side effects and they can feel pain from their health conditions. So in those moments, nothing better than offering them love and comfort.
The vet approached the dog to convey calm and confidence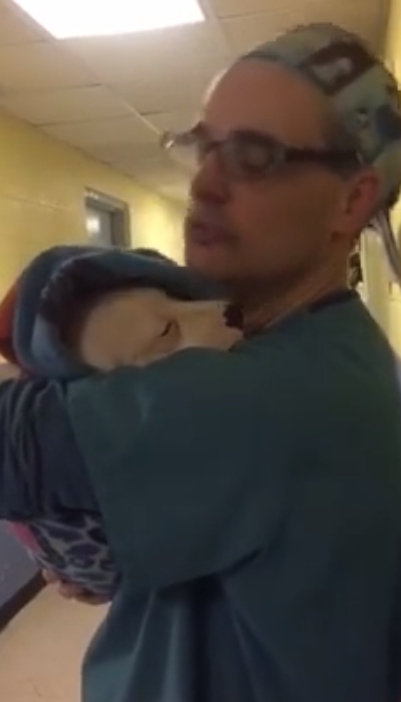 The vet whispered words softly to her and hugged her to comfort her as she screamed confused by the effect of the anesthesia.
He even sang a nursery rhyme to calm her down, because like many dogs, leaving the operating room did not feel well.
"If someone has ever had an operation, they know that when they wake up they are not sure where they are.

It's a scary time even for cats and dogs, especially living in a shelter and being so young, "Dennis commented.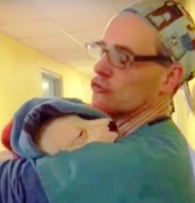 The little girl wasn't quite sure what had happened to her, but the reassuring touch from the assistant vet helped her calm down after surgery. She know now she will be able to enjoy life without worries.
This is the cutest moment you have ever seen of a vet with a defenseless little girl in his arms
Spaying and neutering pets is a very important responsibility of every owner. It costs much less than caring for an entire litter, but it also decreases the chances of offspring being thrown out on the streets.
Let's face it, there are too many cases of pets being treated unfairly and abandoned.
By getting spayed, you directly help control the crisis of people leaving millions of healthy dogs and cats in the hands of high-death shelters, waiting to be euthanized because there aren't enough houses for everyone.
Not to mention, there are also behavioral and medical benefits that this procedure allows.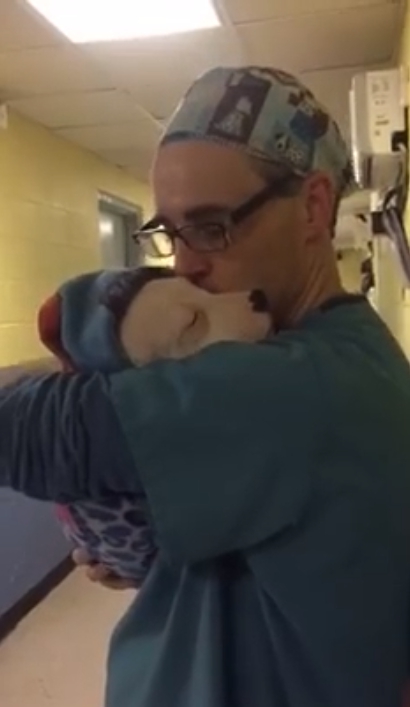 How good to know that there are people like him, capable of seeing beyond the needs of animals and giving them the love and security they need.
Fortunately, Meesha already got a forever home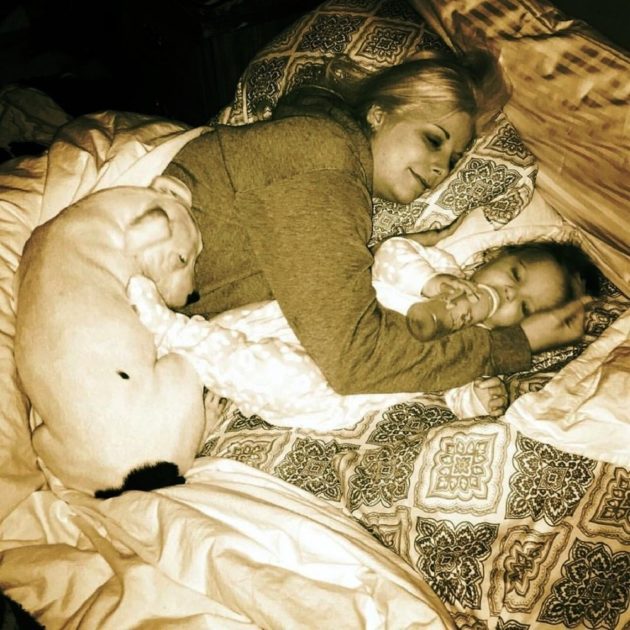 On the Adopt-a-Pet.com page they offer information on those dogs that are waiting for the opportunity to have a home where they can grow up feeling loved and protected as they deserve.
It is good to know that there are many people doing extraordinary work in favor of animals and defending their rights. And also, it is gratifying to know that veterinarians like this work at the service of the most vulnerable beings by offering them the best.
It fills our soul to meet true professionals who are passionately dedicated to what they love the most: animals.